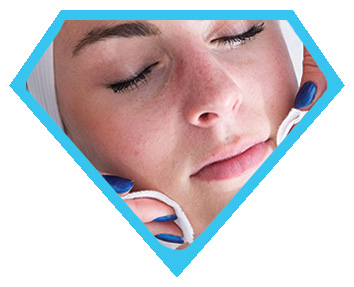 Hand Peels for Additional $50
Our facial peels range from $75-$350 depending on what is decided in consultation. A chemical peel is a treatment in which an acid solution is used to remove the damaged outer layers of the skin, this enhances and smooths the texture of the skin.
All peels are custom based depending on what you need and your results desired. It is an effective treatment for facial blemishes, wrinkles, and uneven skin pigmentation. They exfoliate the outer layers of dead skin, revealing a new skin layer with improved tone, texture, and color.
In addition to full facial rejuvenation, certain types of skin peels can also be used for spot treatments and as a way to remove stretch marks or rejuvenate skin elsewhere on the body. The chemical peel is one of the oldest cosmetic procedures in the world, and was performed in ancient Egypt, Greece, and Rome to help people achieve smoother, more beautiful skin. Today, chemical facial peels are popular because they offer nearly immediate results and can be performed as an outpatient procedure.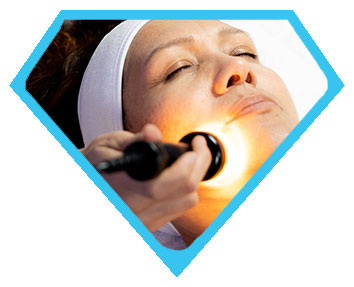 A microcurrent facial emits extremely low-voltage electrical currents (hence 'micro' current), which mirror your own body's electrical currents on a cellular level to repair damaged skin and stimulate collagen and elastin production.
The intensity is so slight that it would take one million microcurrent machines to light a 40-watt light bulb. This treatment is often referred to as "facial toning" because it's like a workout for your face, whereby skin cells are broken down and then grow back stronger, the same way your muscles do after lifting weights.
It works simultaneously to repair and produce collagen in the dermis, the deepest layer of your skin, while gently erasing signs of aging in the epidermis, the top layer of your skin. According to studies, a microcurrent facial can increase collagen production up to 14%, elastin increases 48% and blood circulation goes up 38%. Non-surgical "face lift", no down time involved.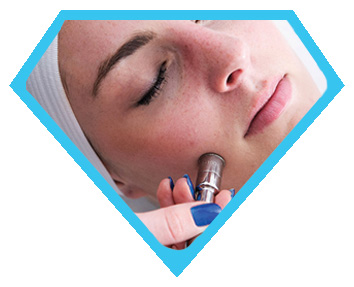 Add this on to any treatment or have it alone: The Sapphire3's unique diamond micro-abrasion tip is crystal-free and suction-free to painlessly ablate the skin's outermost surface layers. You will see an immediate improvement in the skin's texture, tone, and appearance, while leaving the skin more receptive to the oxygen and light therapies.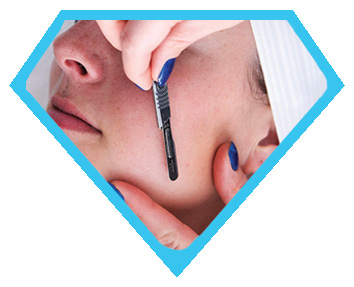 For this safe, highly effective exfoliation procedure, a sterile scalpel is used to gently "shave" the skin's surface removing the top most layer of dead skin along with velus hair aka peach fuzz which we could also just call, "shaving your face," because this treatment involves gently pulling a blade along your skin. Dermaplaning, unlike traditional shaving, uses a smaller blade to slough off dead skin cells in addition to removing wispy facial hair, so skin is more even in tone and texture.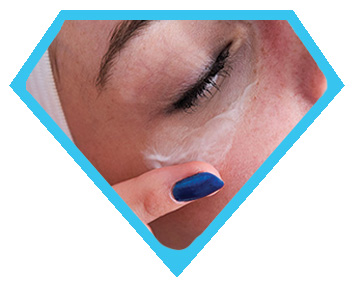 The thin, fragile skin around the eye is the first area to show signs of the passage of time. Start treating that area today with a nourishing eye treatment.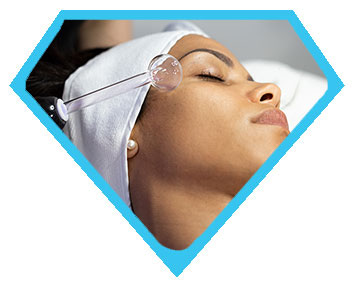 High frequency facials are so powerful that many clients see incredible results even after the initial treatment. The improvements to skin health and healing are often rapid, and the harmless, pain-free procedure works wonders on cold sores, acne skin lesions, waxing and even burns on the skin's surface.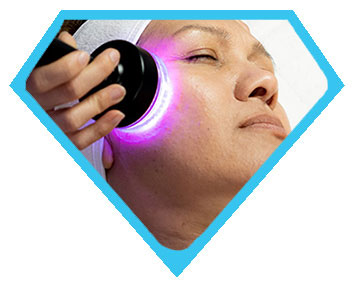 At Face of Jules we use the industry-leading Biosonix Ultrasound tool, which has provided incredible therapeutic results for our clients. Utilizing ultrasound waves and LED light, this device delivers an array of significant benefits for the skin.
Besides stimulating skin cells and boosting the formation of highly-beneficial collagen, this ultrasound face treatment also helps enhance blood circulation and diminish harmful inflammation. Additionally, this treatment effectively passes nutrients through the skin for healing and rejuvenation.
Skin Spatula Treatment
$45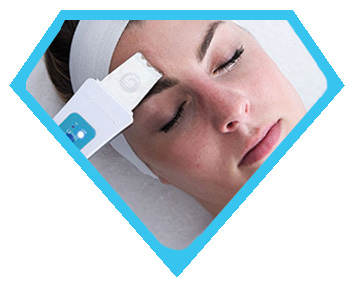 Our skin spatula treatment is an excellent option for thorough ultrasonic exfoliation. At our Los Angeles facial spa, we use the bt-micro® tool to help safely and effectively remove debris, dirt and blackheads.
This ultrasonic skin scrubber treatment produces high-speed vibrations, releasing unwanted toxins and particulates from the pores for removal. As a result, you're left with skin that is fresher and far smoother than before.
Oxylight Therapy
$75 (10 MIN) or $150 (20 MIN)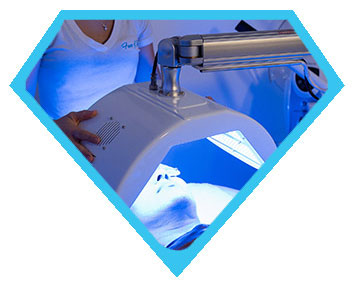 Our Oxylight therapy combines purified oxygen and multiple LED light wavelengths as a means of revitalizing the skin and treating a variety of skin conditions including acne, hyper-pigmentation and wrinkles.
The highly-popular and luxurious Oxylight treatment is effective, relaxing and safe. With Oxylight, you'll be able to get the fresh, glowing skin you've been seeking.
Oxygen Dome Treatment
$55 (25 MIN)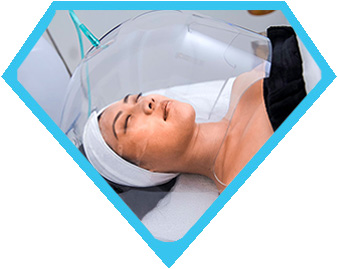 Our oxygen dome treatment uses purified oxygen and anion to stimulate cell regeneration, reduce lactic acid, improve blood circulation and enhance immune function. During the therapy, the esthetician will place a dome-shaped mask over your face that is attached to a machine generating 90% pure oxygen. As with our other age-defying treatments, the oxygen dome treatment will have you feeling youthful and refreshed.
Lymphatic Drainage
$40 (15 MIN)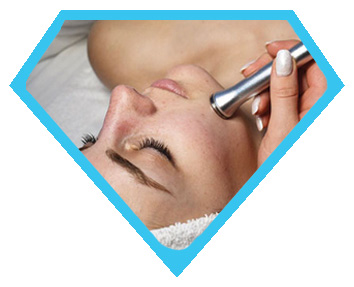 Lymphatic drainage involves gentle movements across the skin that help speed up the circulation of lymph in the body. As the lymph moves through the body, it delivers critical nutrients with waste removed at the various nodes. Our lymphatic massage is extremely relaxing, and will help make your skin look great while at the same time enhancing your immune system.
DMK Enzyme Therapy
$350 (90 MIN)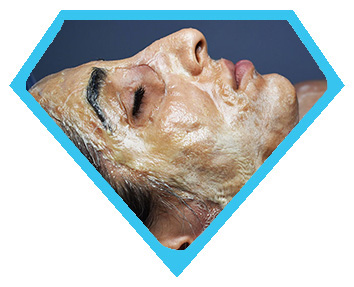 DMK Enzyme Therapy effectively detoxifies, tightens and reinvigorates your skin. This treatment is able to reach all layers of skin, not just the surface layer. The enzymes tighten your skin as the mask works your facial muscles. Your skin will become smoother and rejuvenated.
Please note that our enzyme treatment also includes LED therapy for maximum effectiveness as well as a 30-day supply of product for a home care routine.
Coral Reef Retexturing Peel
$325 (45 MIN)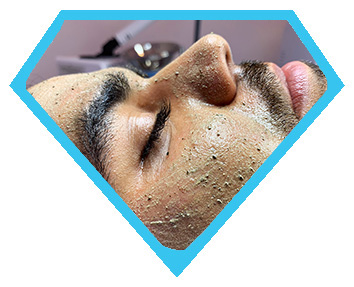 Coral Reef Retexturing Peel is a non-acid, herbal-based treatment that stimulates cell turnover to prevent breakouts and reduces the appearance of blemishes and acne scarring.
This peel features protective antioxidants and stimulates collagen production, blood flow and oxygen for smooth and healthy skin.
We finish this treatment with an oxygen serum and 20 minutes of LED therapy.
Please note that this peel is aggressive, and therefore not recommended for those with sensitive skin.
SilkPeel
$175
$275 – with an Oxygen Facial and Oxylight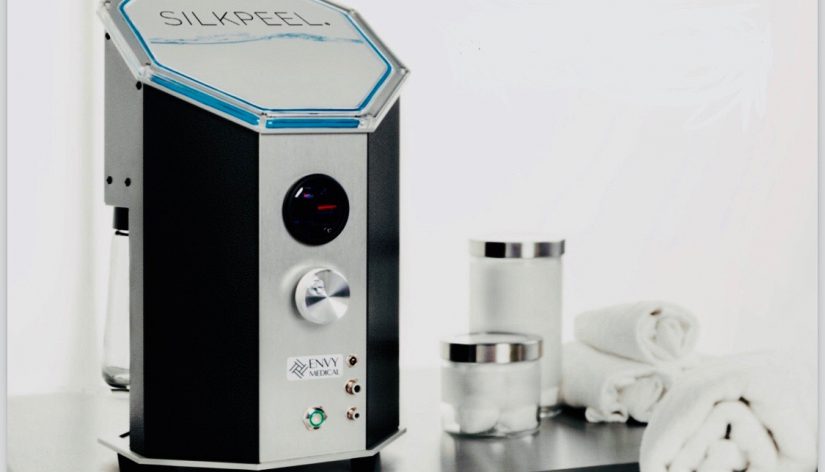 The SilkPeel Dermalinfusion skin care procedure is designed to improve the appearance of skin with just one or a series of treatments. The procedure takes about 30 minutes, does not cause pain, and does not require any downtime. Similar to microdermabrasion, the SilkPeel treatment involves the removal of outer layers of skin through exfoliation techniques. However, the SilkPeel® treatment differs from microdermabrasion because it employs use of various treatment serums specially formulated to treat specific skin conditions.
SilkPeel® can:
Treat oily or acne-prone skin
Hydrate dry skin
Minimize the appearance of wrinkles
Reduce the appearance of age and sun spots
The SilkPeel treatment can be used on your face, neck, chest, hands, feet, and other areas of your body to rejuvenate your appearance. To begin the SilkPeel procedure, Face of Jules will clean the face to remove any make-up, dirt, or other debris that has accumulated on the skin. Next, the SilkPeel® hand piece will be applied to the skin and move the along the treatment area. The SilkPeel® hand piece is specially designed to exfoliate the outer layers of the skin, suction away the dead skin cells, and saturate the skin with the treatment solution.
The serum penetrates the outer dermis to reach deeper layers of skin, infusing it with vitamins, minerals, and anti-oxidants, and increasing the effectiveness of treatment. Results of the SilkPeel treatment are immediately visible. The skin will look and feel smoother, and the skin will have a healthy glow. For the best possible results, patients can undergo SilkPeel treatment every month. Patients should also adopt an at-home skin care regimen to maintain SilkPeel results; this includes the use of sunscreen, facial cleaners, moisturizers, and eye creams.
FACE OF JULES
BEAUTIFUL SKIN STARTS WITH AN EXPERT
Over 5000
Instagram Followers
Over 3000
Glowing Faces in LA
Over 1000
Times You'll Smile After Your Treatment